last update date : 2021-08-25
Blepharoplasty in Turkey: procedure, candidates, recovery, and more
Your eyes can tell easily about your look. Having droopy eyes most probably will affect your entire facial appearance so that people around you can notice it immediately and think that you are tired or old. So, How to refresh your sagging eyes again?
Blepharoplasty surgery is an effective option to rejuvenate your eyes and get a youthful look. In this article, we will learn about eyelid lift surgery, how it is done, candidates, blepharoplasty cost, blepharoplasty recovery, blepharoplasty before and after, and more.
Table of contents
Going ahead with eyelid lift surgery is not an easy decision. You should consider several things to make the right decision. Choosing a good place to do your blepharoplasty is hardly the most crucial factor to perform successful surgery.

Here, we suggest Turkey as one of the best countries to be your destination for eyelid surgery. Why blepharoplasty in Turkey? Turkey offers you advantages that other countries cannot.

Blepharoplasty cost is the first thing people think about when looking for the right place. However, low prices should not be at the expense of quality.

So, if you are trying to find a place that can provide you with quality medical service at an affordable blepharoplasty price, you are encouraged to start your life-changing journey in Turkey.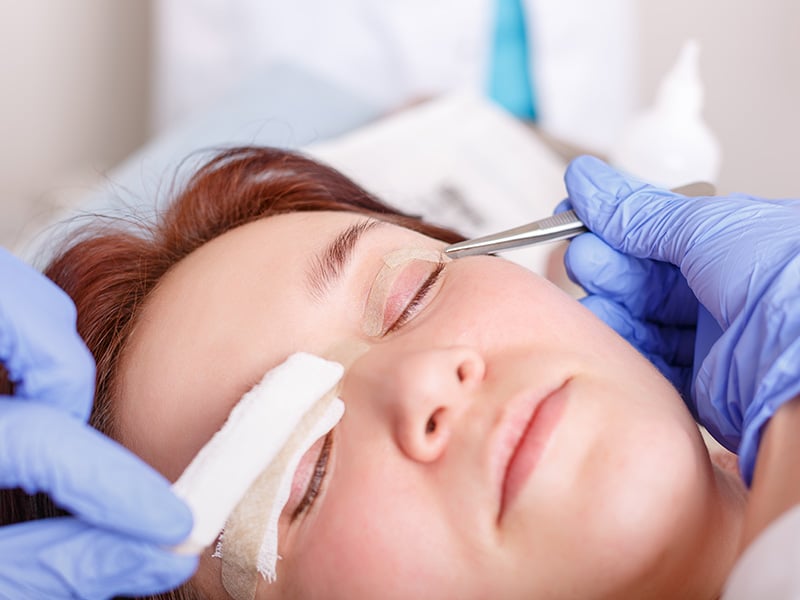 Blepharoplasty or eyelid lift is a plastic procedure that is done surgically under general anesthesia to give refreshed and youthful eyes. It treats sagging or droopy eyelids through the surgical removal of the excess tissue around the eyes and tightens the muscles that support the eyelids.

Furthermore, an eyelid lift can also contribute to better vision.

If you have sagging skin over your upper eyelids that interferes with your side vision, blepharoplasty can be a powerful solution that eliminates the excess tissue from your upper eyelids.
Eyelid surgery may be your ideal solution if you suffer from:
Droopy upper eyelids or sagging skin on the upper eyelids that hamper your vision.

Excess skin on the lower eyelids or bags under your eyes that make you look old.

If you want to restore a youthful and refreshed look to your eyelids.

Double eyelids.
An eyelid lift is performed for both upper and lower eyelids as follows:
Typically, plastic surgery will start with the upper eyelids, making an incision along the folds of the eyelid. Then, he will remove the excess skin and fat and tighten the muscles around the eyes.

For the lower eyelids, the incision will be made below the lashes. Either along the natural crease of the eye or inside the lower lids. Then, the surgeon will get rid of or redistribute the excess skin and fat.
Blepharoplasty might reduce the signs of crow's feet and fine wrinkles around the eyes, but it can not get rid of them completely. If you are interested in removing crows' feet, you should consider other treatments, such as filler or Botox injection which can powerfully eliminate all fine lines and wrinkles in the face.
Following a healthy lifestyle and regular skin care will help you maintain your results for a long-term period, but no one can stop the normal aging process. Performing non-surgical treatment like filler also helps you smoothen your wrinkles and fine lines around your eyes and refresh your appearance.
Generally, you cannot wear makeup after your blepharoplasty directly, you must wait until your incisions are fully recovered. Additionally, You should wait three to four weeks after your operation to wear eye makeup like mascara or eyeshadow. Also, you are advised to wear it gently.
An eyelid lift is a simple plastic surgery that can ensure a youthful appearance. However, it might involve some complications, such as bleeding, dryness of the eyes, infections, swelling, and bruising. Doing a blepharoplasty in the right place will reduce the potential for experiencing any risks or complications.
Since general anesthesia can have certain complications after the operation, several patients prefer to perform blepharoplasty under local anesthesia. So, yes, it is possible to do it with local anesthesia safely. It is done by injecting it into the eyelid area, causing a temporary loss of sensitivity.
When it comes to a blepharoplasty price, treating your upper or lower eyelids will not cost you as much as doing surgery on both eyelids at the same time. A lower or upper eyelid lift costs around 1500 Euro. If your operation covers both lower and upper eyelids, it would cost roughly 2500 Euro.