last update date : 2023-05-28
What do you know about a tummy tuck in Turkey?!
Have you recently lost a significant amount of weight or given birth, resulting in sagging skin around your abdomen? Or have you had any gastric surgery which leaves behind a large amount of loose skin that cannot go by itself?
Tummy Tuck can put an end to your suffering, learn more about it.
Abdominoplasty or "Tummy Tuck" is a surgical procedure that is performed to improve your abdomen contour. It targets the belly and waist by removing the sagging skin and tightening the muscle wall of the abdomen. A tummy tuck is typically done after severe weight loss or pregnancy, as loose skin cannot be treated by following a certain diet or exercise.
For those looking to improve their appearance and self-confidence, a tummy tuck in Turkey could be the answer. This procedure is designed to remove excess skin and fat from the abdomen area, resulting in a more toned midsection.
With experienced surgeons and top-tier facilities, Turkey offers an ideal destination for tummy tuck surgery.
Patients can rest assured that they will receive high quality results and excellent care throughout their visit. So if you're looking to make a positive change, consider getting a tummy tuck in Turkey!
You are the right candidate for a tummy tuck:
You should be over 21 years old.

You should enjoy good health; you don't have any disease or skin condition which may impede your operation.

You have sagging or loose skin resulting from significant weight loss.

You want to get rid of the redundant skin around your body after pregnancy.

If you've had gastric surgery, such as a gastric bypass or a gastric sleeve, and the procedure left you with loose skin.

You have a stable weight to be completely ready for the surgery.

You would like to get a firmer, tight abdominal contour.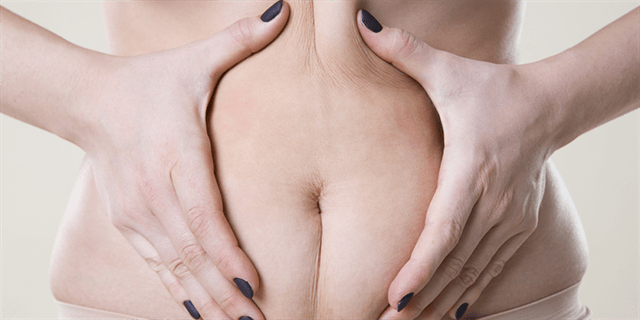 There are four basic types of tummy tuck procedures that have to do with the length and shape of the incision. The doctor usually chooses the most appropriate type for you, taking into account the amount of excess skin you have around your abdomen.
A full or extended tummy tuck addresses the upper and lower abdomen through a horizontal or U-shaped incision which is made directly above the pubic mound. Sometimes, it expands to involve the area above the belly button, giving smoother and more natural results. This type often is suitable for patients who have carried out gastric surgery.
Mini-tummy tuck targets only the lower part of the abdomen in which an incision of a few inches is made above the pubic mound. It is considered a less invasive procedure than the full tummy tuck. It is also appropriate for those who suffer from loose skin below the belly button.
An extended tummy tuck is done for patients who suffer from high amounts of skin that are left after a significant weight loss. This type of abdominoplasty requires a larger surgical incision than a standard tummy tuck. It goes around the abdomen to reach the hips, giving bigger access to tighten the skin of the tummy.
Fleur-De-Lis Tummy Tuck effectively improves the abdomen appearance because it treats the abdomen area above the navel better through an additional incision made vertically. This procedure can remove a larger amount of skin than the full tummy tuck.
To know which tummy tuck type is right for you, the anatomy of your body should be examined. Several factors play a powerful role in determining the appropriate type for your situation, including the amount and location of your excess skin, the skin quality, the body type, and scars of previous surgeries. However, making such a decision needs to consult your plastic doctor and discuss your needs and goals with him to choose the tummy tuck type that ensures optimal results.
There is no difference between abdominoplasty and tummy tuck surgery. Abdominoplasty is simply another word for a tummy tuck, which seeks to tighten your abdomen skin and give you a firmer, smoother, slimmer abdomen.
Here you have a set of instructions that you should follow to ensure good surgery:
● You should avoid smoking for at least two weeks before the operation. Nicotine products may impact the surgery's result and delay the recovery process.
● You should stop taking medicines that contain aspirin, ibuprofen combinations, anti-inflammatory, or Vitamin E that lead to blood thinning. These medical products may increase the risk of bleeding during surgery.
● Avoid drinking alcohol or coffee for a week before the operation, because the stimulants may increase the risk of some complications after receiving the anesthesia.
● Avoid eating or drinking the day before the surgery to not affect the anesthesia process.
A tummy tuck takes up to 5 hours, the patient may also need to stay a day in the hospital. The procedure goes through the following steps:
1. General anesthesia is administered by the doctor, making sure that the patient will feel no pain during the operation.
2. Making an incision: the length and shape of the incision are determined by the doctor concerning the amount of sagging skin.
3. Then, the skin is separated from the abdominal wall, and the underlying tissues are drawn together with stitches.
4. In this stage, the excess skin of the abdomen is removed, then the remaining skin is tightened. In some cases, the navel is repositioned
5. Finally, the incision is closed with dissolvable sutures, and the patient will wear a compression garment.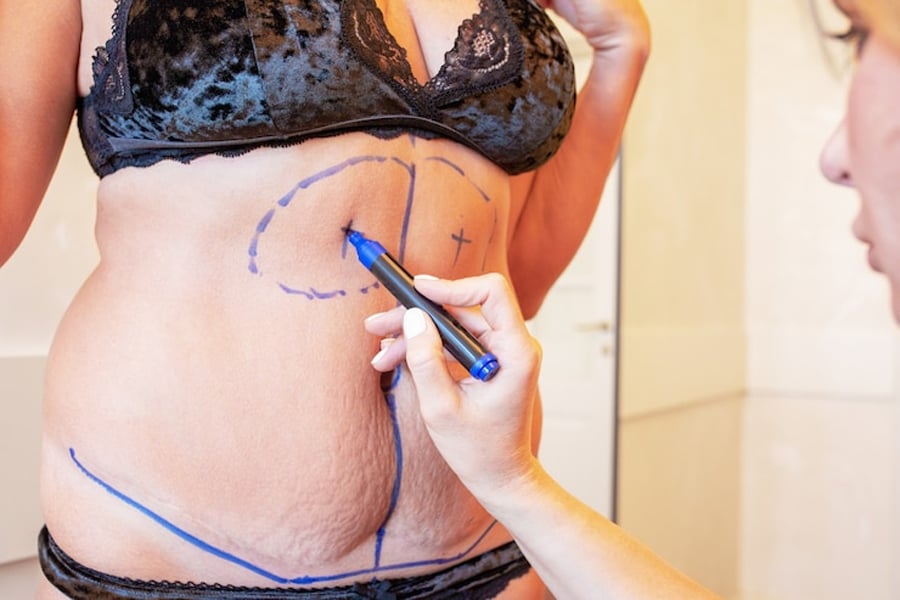 Tummy tuck recovery time might differ from person to person. But, the entire healing process usually takes around 6 weeks. Once your surgery is done, don't feel worried if your results are still not that visible. Indeed, this is because of swelling in the abdomen. You may take a week to two to see your final results.
Here you have a set of recommendations that ensures a quick recovery and the best possible outcome following the operation.
● Wear a compression garment for at least 6 weeks to enhance the results and promote proper healing.
● Follow the right instructions on how to lay down in the best position.
● Avoid strenuous activities for 6 weeks after the operation.
● You will be encouraged to take a brief walk around your house, to enhance your healing process.
● Take your medicines, such as pain medications and antibiotics prescribed by your doctor.
● Avoid smoking for five weeks after the operation.
● Avoid direct sunlight to the incision and use sunscreen which helps you reduce the visibility of scars.
● It is recommended to follow a healthy and balanced diet to help you maintain the surgery result.
● Regular exercise helps you keep your ideal weight after the operation.
A tummy tuck might be associated with some side effects:
● Permanent scars, but they can be hidden along the bikini line.
● Bleeding
● Pain
● Fluid accumulation under the skin
● The infection resulted from poor wound healing.
● Numbness of weakness in the skin sensation.
You might wonder why I should do a tummy tuck with lipo. The answer is to maximize your body contouring results by simultaneously removing excess fat, and eliminating sagging, you will need to arrange for one surgery that requires a recovery period, rather than two separate operations at different times.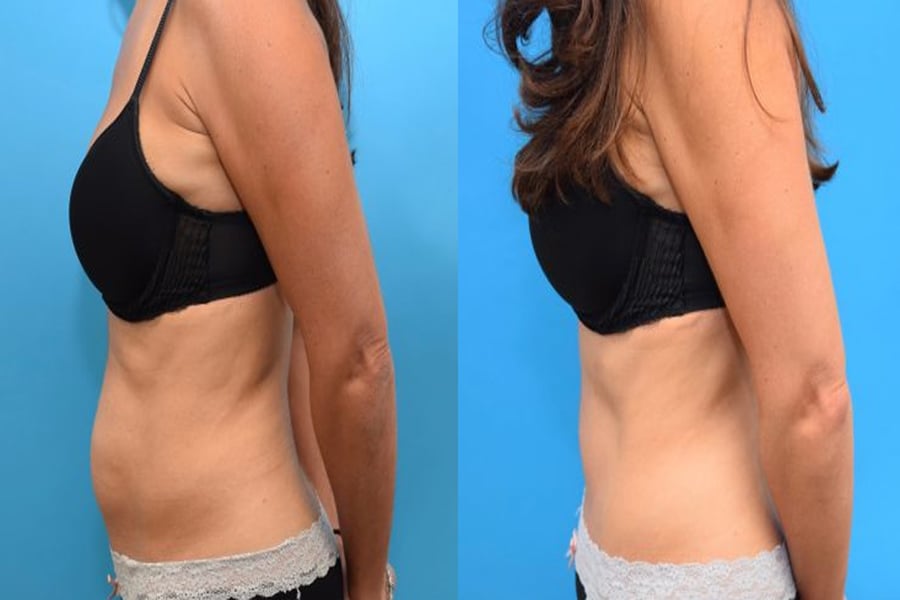 Typically, a tummy tuck incision is made in a hidden location where scars can be concealed by an underwear line.
Over time, tummy tuck scars usually become less visible, especially if you follow post-operative instructions properly. Later, you can minimize the visibility of scars through Laser sessions that help you improve the appearance and color of the area.
A tummy tuck is a relatively safe treatment. However, like with any plastic surgery, there are some complications or side effects that your surgeon will discuss with you before proceeding. Some of the potential complications include bleeding, infection, and anesthetic issues.
Tummy tuck generally offers long-lasting results, especially if you follow a healthy lifestyle that involves a balanced diet and regular exercise. Going back to your messy life routine will not help maintain your optimal results for a long time.
The average weight loss is approximately five pounds according to a study conducted on women after a tummy tuck. This weight loss is the amount of abdomen skin and tissue that is removed through the operation. However, you must know that tummy tuck is not a weight loss method, it is just a treatment to get a firmer, smoother abdomen appearance.
During the tummy tuck procedure, you will feel no pain since you are under the effect of general anesthesia. However, you are most likely to experience moderate pain in the first days following the surgery. This pain will be controlled by pain medication given to you inside the hospital.
A tummy tuck is a surgical procedure that is associated with some risks, which include:
● Fluid accumulated under the skin
● Insufficient wound recovery
● Obvious scars that can't be hidden easily
● Damage to abdominal fatty tissue
● Permanent numbness or reduction in skin sensation
Tummy tuck costs in Turkey can vary according to the type of operation the patient needs for his medical situation. Generally, the average tummy tuck price in Turkey is around $3500.

Resources

Tummy tuck
Tummy Tuck
Tummy Tuck
Different tummy tuck techniques
Four medical benefits of a tummy tuck
Many Women Have Long-Term Weight Loss after 'Tummy Tuck,'Reports Plastic and Reconstructive Surgery
Before & After Tummy Tuck