You might be one of those people who suffer from excess skin and fat around your abdomen. You might also do your best to get a flat, firm tummy, but your body gets in the way of that, whatever exercise you do or diet you follow. In this case, Tummy tuck is the only ideal solution for you! However, you should ask yourself first if you are the right candidate for a Tummy tuck or not, let's give you a hand!
Is a tummy tuck right for you?
As with any plastic surgery, not everyone can be a candidate for a tummy tuck. The right candidate should:
The most important factor that must be considered when it comes to a tummy tuck is health. As you know, a tummy tuck is a surgical procedure that requires general anesthesia, so if your health is not good enough or you suffer from certain significant diseases, you might not be a good qualifier for this operation.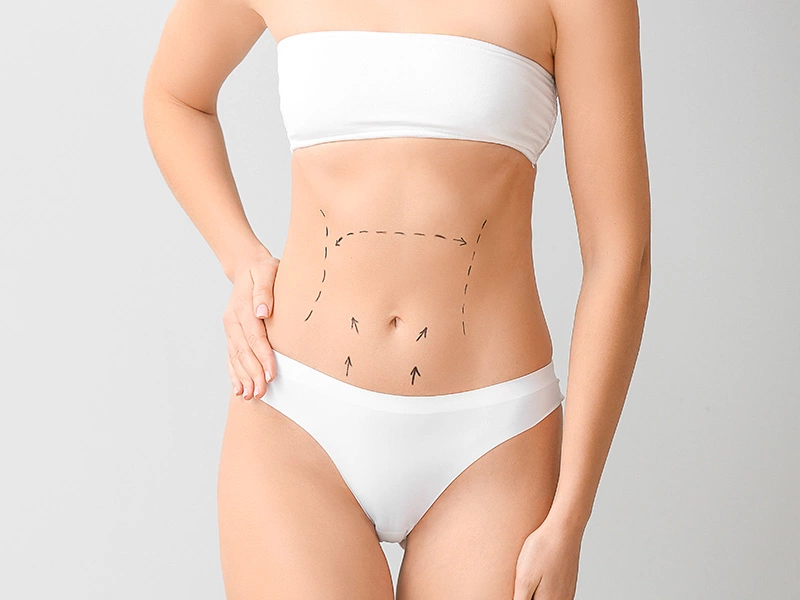 Moreover, if you are overweight, or you don't have a stable weight, you cannot perform tummy tuck directly. You are encouraged first to lose weight by exercise and diet or bariatric surgery.
Smoking is also one of the issues that should be taken seriously. Smoking can affect the results of the operation, so you must avoid it for at least a month before tummy tuck.
Have loose or sagging skin
People usually tend to do a tummy tuck to get rid of the excess and sagging skin that surrounds the abdomen area. Several reasons might lead to loose skin, such as weight fluctuations, pregnancy, and genetic factors. Having a big amount of droopy skin does not just affect the entire body's appearance negatively, but makes the patient lose his self-esteem in his daily life. So, by undergoing a tummy tuck, your whole life will be changed for the better.
If your weight is stable, but you still have some stubborn fat around your abdomen, a tummy tuck, which can remove the excess fat from your abdominal area, can be the right solution for you.
When you experience pregnancy or multiple pregnancies, you are more likely to have a significant amount of loose skin in your abdomen and suffer from muscle separation which is called Diastasis recti affecting your entire body profile. To get rid of this sagging skin, you have no choice except to perform a tummy tuck. It can tighten your skin and muscles and give you a flat and firm abdomen. Usually, you are advised to undergo a tummy tuck when you are done with experiencing pregnancy, otherwise, if you got pregnant again, absolutely you will ruin your abdominoplasty results.
You are not satisfied with your abdomen appearance
If you suffer from sagging skin and excess fat and you are no longer happy with your abdomen profile, a tummy tuck could put an end to your problem and transfer your stomach completely.
Does a tummy tuck help you lose weight?
A common question is always raised when it comes to a tummy tuck, how effective tummy tuck is at losing weight?. Generally, a tummy tuck is a method to remove some excess fat that accumulated over your abdomen, but it is not a weight loss solution. If you have extreme obesity and want to lose weight quickly and effectively, bariatric surgery, such as the gastric sleeve, gastric bypass, or gastric balloon procedure, maybe a good option for you.
Do tummy tuck scars go away?
A tummy tuck is a surgical procedure that typically requires a horizontal incision which is made from hip to hip above the pubic bone. This incision will leave a visible scar that needs years to fade away. However, a skilled plastic surgeon can perform tummy tuck professionally, making an incision that can be hidden under underwear and a swimsuit. Therefore, you should be very careful when it comes to choosing the right clinic in addition to an experienced surgeon who you can trust to undergo your operation.
How long does it take to recover from a tummy tuck?
You need to know that tummy tuck will not give you immediate results, the final results might take up to a year. In the first weeks; which are about 4 to 6 weeks, you will experience some side effects, such as bruising, swelling, and redness, and after that, your results will start to show.
Additionally, after your operation, to reduce swelling and ensure fast recovery, surgical drains are inserted into your body through tiny incisions to remove fluids and blood from it.
Are tummy tuck results permanent?
Generally, a tummy tuck can get rid of sagging skin and excess fat, giving you permanent results. However, you still need to take care of your daily routine, such as following a healthy diet and doing regular exercise, to maintain your weight, which in turn ensures permanent results.