last update date : 2021-08-19
As we get older, our skin starts to lose its natural elasticity, and facial fat deposits are redistributed in an imbalanced way, leading to sagging and wrinkles. How could we get rid of these age-related changes? A facelift is an effective option to remove wrinkles and refresh our facial skin again! In this article, we will talk about facelift surgery as a powerful surgical alternative to other non-surgical treatments in detail and why Turkey is a recommended place to perform it.
Table of contents
You may consider a facelift in Turkey for several reasons. People prefer to have facelift surgery in Turkey to get a youthful and smoother face contour at reasonable prices.

You may wonder why facelift surgery is cheap in Turkey?. Indeed, Since Turkey's living standards are lower than those in the U.S. and Europe, the facelift cost in Turkey is very affordable.

Besides the low facelift prices in Turkey, Turkey has first-class medical facilities and professional doctors who have high experience in plastic surgeries.

Additionally, they provide high-quality medical services as the quality of services as offered in advanced countries.
A facelift is a plastic surgery done surgically to reduce the sagging skin in the cheeks and jawline and restore a youthful facial appearance. A facelift is a surgical procedure that is usually performed under general anesthesia.

The procedure can be only effective for people who suffer from clear folds and creases of facial skin. People who have fine wrinkles or lines are not the right candidate for a facelift. They should look for other cosmetic treatments, such as filler or Botox injection to treat those superficial problems.

If you have folds of skin on your neck, you should consider neck lift surgery along with a facelift. Usually, it is done separately from a facelift.
Before a facelift, anyone who wants to have it should consider the following:
If you have a medical condition that could interfere with the surgery, you are not a good candidate. The right candidate should enjoy good health.

Facial skin elasticity plays a crucial role in plastic surgery performance. Having good skin elasticity contributes to a more successful operation.

If you have sagging cheeks contour or you suffer from excess skin around your jawline, facelift surgery can help you smoothen your entire face.

The surgical facelift will be a good option if you find that non-surgical treatments are no longer effective in treating your deep wrinkles.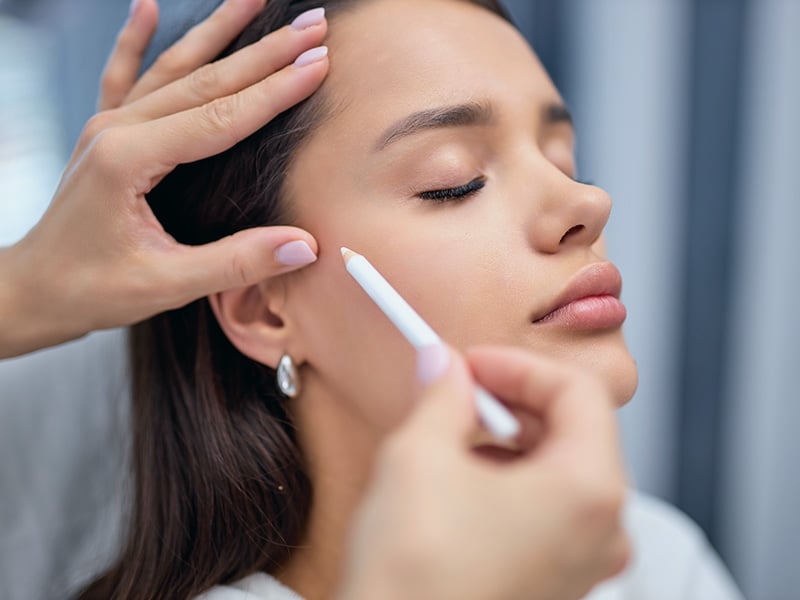 As we mentioned, a facelift is done under general anesthesia since it is considered a surgical procedure that requires incisions to be made around your face. Generally, the whole operation takes 2 to 4 hours.

For making incisions, there are three options available. According to your needs and preferences, your doctor will choose the type of incision.
The incision will begin at the hairline of your temples. Then, it will go down and around your ears on the frontal side and end at the lower scalp right behind your ears.
This incision is shorter than the traditional one and is called a mini facelift. It starts just above your ear at the hairline and continues around the front of your ear only. A mini facelift in Turkey is a popular operation and is done professionally.
Neck lift incision starts at the frontal side of your ear and wraps around your ear down to the scalp. Additionally, this approach requires a small incision under your chin area.
After making the appropriate incision, the facial skin is elevated to give access to the underlying tissues.

The excess fat that surrounds the muscles is removed or redistributed.

The facial skin is redraped, and the sagging facial skin is removed.

Finally, the incisions will be stitched and closed. Then, they will be covered by bandages to promote the facelift recovery process.
After your surgery, you might experience some light side effects, such as mild pain, swelling and bruising. But with the painkillers, everything will be fine.
Indeed, The scars left behind by a facelift are permanent, but they can be hidden by the hairline and behind the ears. So you have to consider that before going ahead with a facelift.
Facelift surgery can restore a more youthful and smoother facial appearance. You can see your final results once swelling and bruising go away. However, facial skin to return to the normal situation might differ from person to person. Usually, it takes a couple of months.
With age, nothing can last forever. So you should know that your results are not permanent as facial skin will start to lose its elasticity and droop again as you get older. Typically, the facelift results are expected to last around ten years.
Moreover, you might be able to extend this period if you take care of your face regularly. You are advised to moisturize your face daily and protect it from the sunlight. Additionally, you are encouraged to follow a healthy and balanced lifestyle, which helps you reduce skin aging.