last update date : 2021-06-17
No escape from the dentist, even if you take care of your oral health daily, you are most likely to experience teeth problems over time. Regular dental checkups can protect you from dental diseases and keep your teeth and gums healthy. So, you should visit your dentist routinely to check your oral health and fix your dental problem before it is too late. However, a question arises, how can I find the best dentist? Here, in this article, we will highlight the most important tips which help you choose the right dentist whom you can trust!
1. Recommended dentists
Take your time and ask your relatives and friends for recommendations. You don't have to take a risk and pick a dentist randomly. Listen to others' recommendations and experiences, create a list of potential dentists who are recommended by people around you, and choose your dentist accordingly.
Call each dentist on your list and ask for consultation appointments making sure to find a reliable dentist who can provide you with good oral healthcare.
Read more: My experience with Hollywood smile in Turkey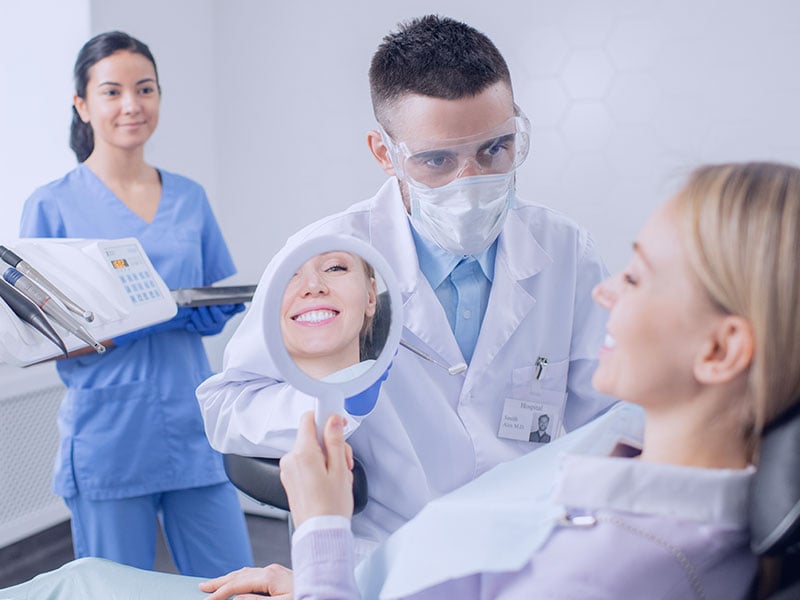 2. Make your own research
Getting referrals from your friends or relatives and starting your own research about every dentist together can be much more useful. When you are looking for a good dentist, it is necessary to look at his board certification which shows his experience, skills, and training, which makes him pretty qualified to provide dental healthcare.
Make sure your dentist has a clean history without any malpractice claims. Furthermore, read other patients' reviews. A lot of people write their entire experiences with dentists, mentioning everything you might be curious to know, like dentist's performance, wait times, and center environment.
Read more: Hollywood Smile in turkey 2022
3. The experience of the dentist
Don't risk your oral health to a dentist with low experience, especially, if you want to perform a dental procedure, such as a dental implant or orthodontics which requires a high level of experience. Never hesitate to ask a dentist about his experience and successful approaches in dealing with a specific procedure. By doing so, you will not only make sure you have a successful procedure, but you will feel more comfortable letting him perform your procedure rather than others whom you might have a doubt about their performance.
4. Office environment
Choose a helpful and friendly dentist who welcomes you warmly, listens to your problems and treatment preferences, and communicates with you by answering your questions in a simple way. Avoid dentists who rush you or don't interact with you properly, or whose office staff are not friendly to deal with patients. Good dentists spend enough time with their patients, discussing what is really better for them.
5. Dental insurance coverage
Make sure you choose a dentist who will not charge you too much. Ask him if your insurance can cover your dental procedure partly or completely and how much you have to pay in cash. Prices also vary from one dentist to another, make sure you visit a dental clinic that offers quality dental services at affordable prices. When you visit a dentist, ask him about the dental materials and equipment which will be used for your procedure and make sure that it is worth the price you will pay.
Read more:The Cost of Cosmetic Dentistry in Turkey 2022
6. The cleanness of the office
Make sure you visit a dentist who follows safety guidelines in the office, especially during the covid-19 pandemic. Check cleaning and safety precautions that should be considered in every dental clinic, such as disinfecting waiting and treatment rooms and equipment, wearing facial masks, gloves and hairnets.
7. Emergency visits
The possibility of emergency visits is one of the things which you should consider when you want to choose a dentist. A good dentist should be ready to handle any dental emergencies, providing flexible and immediate appointments for his patients in case they experience any emergency issues.
8. A dental implant requires a specialist
If you want to perform dental implants, you should consider that your dentist is a dental implant expert who has long experience in this field. Choosing a dental implant specialist will ensure a more successful procedure. So, never hesitate to ask your dentist about his experience in dental implantation and discuss with him all successful approaches for ideal results. Also, make sure that your dentist uses quality dental materials which can maintain your implant for the long term.