last update date : 2021-07-29
My experience with a dental implant in Turkey
My name's John. I would like to share my journey of dental implant procedure with you, telling you how my new smile has changed my entire life since I had a dental implant in Turkey. You might have some concerns about the dental implant operation as I had before going ahead with it. However, I think that my story with the dental implant procedure may help you to become more confident with your decision.
How bad were my teeth / dental health?
I used to be very careless about my oral health all my life. I rarely brush my teeth and always did my best to avoid visiting the dentist. Besides, I was a heavy smoker who smoked more than 25 cigarettes a day, so I always suffered from severe gum problems and hardened plaque sticking to my teeth.

My dental health was getting worse and worse over time. In my mid-forties, I found myself losing several teeth that ruined my smile completely. Here, I started to take it seriously and I decided to find a solution to my dental problem.

Since I knew that my situation was so bad that I absolutely needed a dental implant procedure, I was so hesitant to make such a decision. I was somehow worried about it until I contacted Mira clinic which is one of the reputable clinics that has long experience in dental implant procedures.
Why did I choose Turkey to perform my dental implant?
Several people around me asked me why I chose Turkey to perform a dental implant procedure. Actually, after my deep research that I did for a period of time, I found that Turkey is one of the most famous countries in the dental implant field. There, they offer services as quality as the USA and Europe with a difference - their prices are very competitive compared to others.

Also, a relative of mine who did his dental implant in Turkey advised me to visit Mira clinic as he was very satisfied and happy with his results. so I decided to step up and perform my procedure at Mira clinic.
How did they welcome me when I arrived in Turkey?
Mira clinic offers online medical consultation for free, so before going there, I contacted them to discuss all available options to restore a healthy and natural smile. The dental implant procedure was the ideal solution for my teeth case.

One of their medical experts explained to me how simple and easy the procedure will be performed, in addition to the wonderful results that it can provide. Honestly, after that conversation, I felt better off, and immediately I took a plane to Turkey.

Once I arrived at Istanbul airport, I found their logistics team was waiting for me with a luxury car by which they picked me up and drove me to the hotel directly. After this long flight from the USA to Turkey, I had to take a rest for the rest of the day enjoying the beauty of Istanbul. The next day, they picked me up from the hotel to the clinic to start my new journey with them.
How did they prepare me for the dental implant procedure?
My dental problems were represented by three lost teeth on the lower arch and four missing ones on the upper arch. So, I was advised to do a dental implant as an alternative treatment to the dental bridge.

First of all, for evaluating my dental health, the dentist used a dental x-rays exam which helps to visualize teeth problems including the surrounding tissue that cannot be seen with a normal oral exam.
What are the steps of my dental implant procedure?
Since my lost teeth were completely removed and no roots were left in my gum, I had not needed any tooth extraction and I was ready for the procedure.

Furthermore, my jawbone was thick enough for a dental implant that no jawbone grafting was required.

Firstly, local anesthesia was administered to me to avoid pain and make me feel comfortable during the procedure.

To have access to the jawbone, the dentist made incisions into my gum in the areas of the lost teeth, then he made holes using a dental drill.

Each hole was filled with a metal post which is the dental implant. Actually, I needed four dental implants based on the number of my missing teeth and their places. Since my permanent crowns had not been ready yet, the implants were covered with temporary crowns.

Afterward, in order to attach each implant to its crown, my dentist installed a metal piece called an abutment on the implant.

Once the permanent crowns were ready and my gums were healed fully, my new seven crowns were well-attached to the implants, so I could have an ideal smile.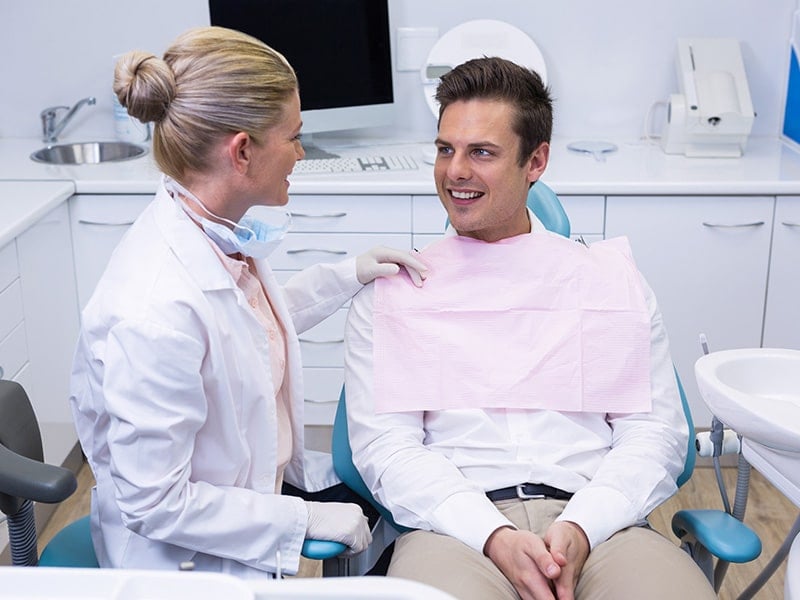 Did I experience any complications after my dental implant?
To be honest, in the beginning, I experienced some swelling and pain around my implant locations, however, after I got some medications which were described by my dentist, I felt better off.
What were the recommendations that I followed after my dental implant?
Of course, I had to follow some important instructions recommended by my dentist after my dental implant. He said that it will help me maintain my new teeth and make the results last for a long time.

For the first week after my procedure, I avoided teeth flossing, drinking alcohol, and smoking.

Also, I was advised to avoid chewing solid foods and reduce consuming tooth-staining products

The dentist emphasized to me the importance of following proper oral hygiene, which includes teeth brushing with quality toothpaste and using the saltwater solution to rinse my teeth.
Am I satisfied with my dental implant results?
I am very happy with my new smile, now I can smile and laugh without worries. Indeed, the results are beyond my expectations, I am really satisfied with them.

My dentist worked very hard side by side with his dental team to make sure a smooth transition in each step of my procedure.
The procedure was comfortable. I appreciate their works so much, my teeth look and feel like natural teeth. Thank you so much!