I am Muhammed in my mid-30s, and I would like to share with you my experience with hair transplants at Mira clinic in Turkey. It was really a life-changing journey for me after hair loss spread over my scalp threatening my identity. Here, in this experience, I am going to tell you how bad my hair loss was, and how a hair transplant was an ideal solution for my case. Let's start my story with this question: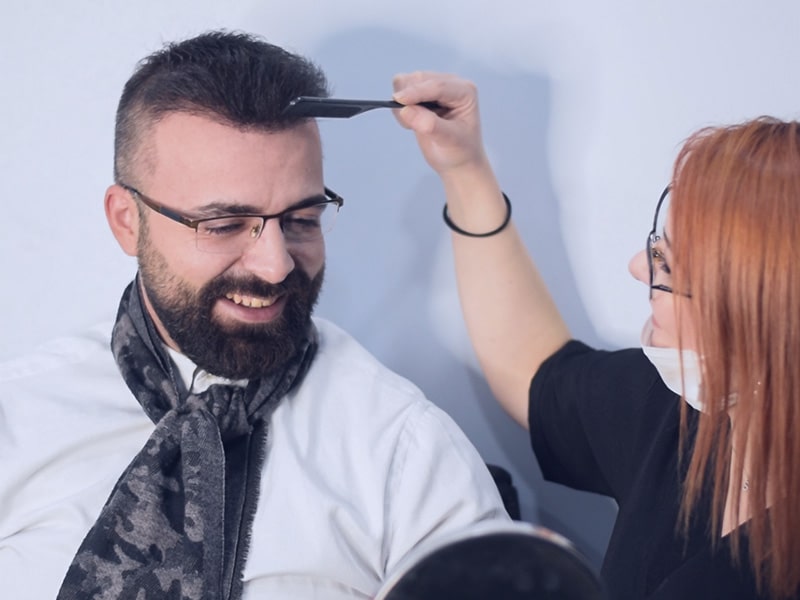 When and how did my hair loss start?
I still remember when the top of my hair crown started to disappear in my mid-20s, which made me look older than my real age. At that time, I felt disappointed as I thought it was just the beginning to lose the entire hair over my crown as my hairline was receding continuously.

In my late twenties, I noticed that my hair got worse, so I decided to hide the thinning by cutting my hair short each time I visited my barber, to avoid hearing a word from a friend " You are balding bro". It was for him such a funny joke, but for me, a horrible truth.

I kept standing for a couple of years until I got through an unpleasant situation, when I was applying for a job position which requires good looks, although my profile matched all requirements of this job, unfortunately, I got rejected due to my baldness.
How did I fight hair loss back?
After going through a bad experience and embarrassing moments, I decided it is time to take serious action, looking for a real solution to grow my hair back. I tried different kinds of hair treatments, such as Minoxidil which is an FDA-approved treatment for hair loss.

I applied it regularly according to the medical description for a period of time, but it was crystal clear that there was no improvement on the way. Here, I started thinking of doing a hair transplant in a good place, but before going ahead, I decided to ask a friend who had performed a hair transplant a year ago in Turkey.
Why did I decide to undergo a hair transplant?
When I met my friend, I found him very happy with his results. He started talking about his hair transplant experience and how it was really successful. I could see that in my eyes, his hair was completely different, he looked very handsome. He also told me how the staff in the Mira clinic where he did his operation, welcomed him warmly.

By listening to his entire experience, he encouraged me to take a step forward and contact Mira clinic asking for a medical consultation which is offered for free for all patients.

Through the medical consultation, they answered all my questions in my head, and according to the photos of my entire scalp, especially the back area of my head ( which called the donor area), they ensured that my donor area is good enough for hair transplant, so they invited me to their clinic picking me by a VIP car from my house to the clinic office directly later.
How did I prepare myself for a hair transplant?
When I visited their clinic, although the medical specialist ensured that I was a good candidate for a hair transplant, he recommended I follow some necessary recommendations which helped me to be ready for the procedure. They asked me to avoid the following:
Smoking for at least 2 weeks. Since I am a smoker, I felt it was somewhat difficult, but I could get over it.

Any blood-thinning medications, such as aspirin and anti-inflammation for a week at least before my procedure.

Also, I had to avoid drinking coffee and tea on the same day of my operation.
How was my hair transplant done?
On my operation day, I was first subjected to a couple of medical examinations. Then, my doctor and I discussed my hair transplant options, and he suggested the Sapphire technique for me by which he could implant much more grafts than any other technique.

Sapphire technique is a special Follicles Unites Extraction (FUE) which can transplant hair grafts powerfully into the baldness area by creating tiny channels using very fine medical blades made of sapphire stone.

Firstly, before opening any channels, the doctor started to harvest the grafts from the donor area, which is the back area of my scalp using an advanced device called a Micromotor.

Once he collected the required number of grafts, he started to implant them one by one into the baldness area of my scalp. Thanks to the safe nature of the sapphire stone, I experienced no scars or damages to my scalp.

Two days after my hair transplant, my scalp was washed with a special shampoo carefully, preventing any damage to the newly implanted grafts. For the next hair washing sessions, I was guided by a medical specialist who taught me the right way to wash my hair after a hair transplant.
What were the necessary instructions which I followed after my hair transplant?
After my hair transplant, my doctor recommended I follow some instructions which significantly helped me to get fast recovery and protect my new implanted hair grafts.
I took my medications regularly according to the description of my doctor.

I kept wearing the head bandage for the required period after my operation.

I took a rest for a week after my hair transplant and avoided any strenuous activities for a month.

I was very careful about my new hair grafts when sleeping and wearing or taking my clothes.

I stayed away from sunlight for around a month after my hair transplant.

Also, I did my best to avoid smoking for over a month after my procedure
How were my hair transplant results?
I remembered that I experienced some discomfort, but disappeared after a couple of days. Furthermore, I was informed that my implanted hair grafts will fall out within the first weeks normally, which happened.

Then, my hair started to grow back again, and I see almost 60% of my results in the first 6 months after the procedure. Also, in order to promote my hair growth, I received three plasma (PRP) injections and I did a mesotherapy session. A year after my hair transplant, I got my final results.
Are you happy with your final results?
Honestly, I am really satisfied with my final results. It is a life-changing experience. I would highly recommend everyone who suffers from hair loss to not hesitate to do a hair transplant, but make sure to do it in the right place.

Don't forget to follow the pre and post-operative instructions which help you get the best results.

Taking a course of PRP along with mesotherapy sessions also helped me maximized my final results, so don't hesitate to ask your doctor if it can work for you too.