last update date : 2021-03-17
Recently, rhinoplasty in Turkey has become one of the most popular plastic surgeries which are performed for both beauty purposes and nose functions improvement.
In this article, we will discuss rhinoplasty in Turkey, including its benefits, types, preparation, stages, recovery, results, instructions, and cost.
Let's get started!
Rhinoplasty has emerged as a powerful plastic operation that improves the nose completely.
It can surgically modify the bone, which is the upper portion of the nose, as well as the cartilage, which is the lower portion of the nose.
Usually, the operation is performed to:
Changing the size of the nose.

Straightening the bridge of the nose.

Eliminating the humps and depressions over the bridge of the nose.

Reshaping the nasal tip.

Narrowing the nostrils.

Treating breathing problems, such as deviated septum.
Here you have the most common nose job operations:
An open nose job is a type of rhinoplasty that provides wide access to the nasal structures for patients whose nasal situations need extensive nose contour reshaping. This operation requires a small incision which is made across the columella between the nostrils. Typically, the operation is performed under general anesthesia as it involves surgical intervention. The scar will not be visible due to its location under the tip.
This operation is appropriate for patients who need small changes to reshape the structure of their noses. The incisions will be made inside the nostril. As a result, the resulting scars will be hidden inside the nose.
Dermal filler injection can be a good non-surgical method to adjust bumps and depressions, and reshape the tip of the nose by injecting filler at strategic points temporarily. The procedure is considered an expensive method because it must be repeated once a year to maintain the results.
By performing rhinoplasty, you can get several advantages, including:
Getting a well-proportioned and healthy nose.

Improving your breath significantly, if you suffer from congenital breathing issues.

Treating sinus problems, such as nasal congestion and headaches.

Getting rid of snoring permanently.

Correcting broken nose or any birth defects.

Enhancing your self-esteem by having an attractive nose.
When you visit your doctor, you should be open with him about your expectations. By explaining your desires for the final result, he will suggest some options that will help you achieve your ultimate goals for the operation.
Your rhinoplasty surgeon will start your operation with:
Your doctor will ask you some questions about your medical history whether you have any breathing issues or perform certain operations which may affect being a candidate for rhinoplasty. Also, he may ask if you have any chronic diseases or medical disorders which make you unqualified for the operation.
A full physical examination will be conducted to ensure performing a successful operation with optimal results. First, the doctor will perform blood tests as well as physical exams to determine the nature of your facial skin and the strength of your nasal cartilage, which will most likely need to be reshaped.
If you are a smoker, your doctor will recommend you stop smoking before your operation. Nicotine can reduce the oxygen in the blood which is needed for the recovery process. Additionally, your surgeon will inform you to avoid medications, such as aspirin which lead to blood thinning and therefore cause more bleeding during the operation.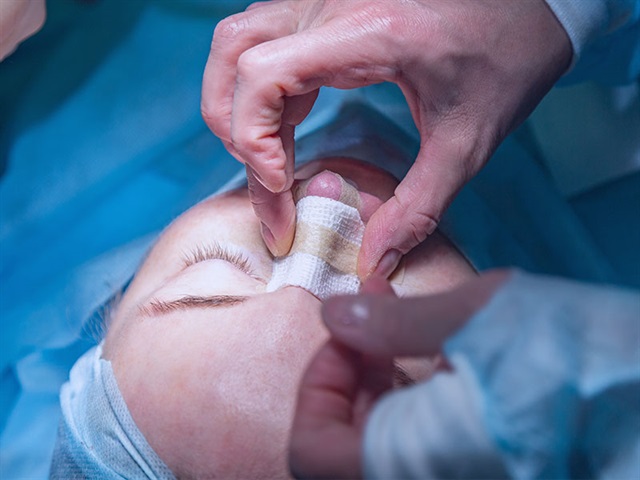 Although rhinoplasty is done surgically through two methods; open or close procedure, it goes through the same stages:
Rhinoplasty is a surgical procedure that requires general anesthesia. As a result, you will be injected through your LV line, which is connected to a vein in your hand. After receiving the anesthesia, you will be completely unconscious during the operation.

Incision making. The incision can be made in two methods depending on the adjustments your nose structure needs. For significant changes, an incision will be made across the columella. However, if the nose needs small changes, a closed procedure will be performed. This method requires an incision inside the nose only. So the scars will be invisible.

These incisions allow access to the cartilages and nasal bones, enabling the surgeon to reshape the structure of your nose correctly. In most cases, nose reduction is done by removing parts of the cartilage. However, parts of the cartilage sometimes are taken from the septum and added to the nose structure. If you have a breathing problem that has to do with a deviated septum, it will be modified and strengthened, helping you breathe normally.
After rhinoplasty procedure
Once your surgery is done, your surgeon will cover your nose with a metal splint to ensure your nose takes its new shape. Additional splints also may be put inside your nose to support your septum and keep it straight.
You may experience some bleeding, swelling, and headache for a short period, but it is normal, you don't have to worry. You are advised to use the medications prescribed by your doctor to help you release the pain and reduce the swelling. For the recovery, you will get fully recovered in a few weeks.
Most probably, you could wait a whole year before you see your full results after the surgery.
After your operation, you have to follow some instructions for a few weeks to ensure a successful operation with desired results.
Avoid strenuous activities.

Stay away from running and swimming.

Do not blow your nose after the operation for a while.

Avoid facial expressions, such as laughing and hard chewing.

Be careful when taking off your clothes over your head.

Stay away from direct sun.
Visiting Turkey for rhinoplasty is highly recommendable. You should be aware that if you choose to have rhinoplasty in Turkey, you will benefit from several advantages, including competitive prices, high-quality medical service, and special full-service packages.
The rhinoplasty cost in Turkey is about 2000 Euro. However, if you need to undergo open nose job surgery due to complicated nasal issues, it may cost you about 2500 Euro.