Have you experienced a significant weight loss or pregnancy which leads to sagging skin around the abdominal area? Or have you had any gastric surgery which leaves behind a large amount of loose skin that cannot go by itself? Are you embarrassed about your sagging skin around your tummy area which stops you from wearing fashionable clothes or makes you lose your self-esteem when you swim?
If you answer "yes" to any of these questions, then you should find a solution for your problem and put an end to your suffering. At our clinic, we can help you go over it, we have our expert medical team who can treat loose or sagging skin professionally with a very common surgery called "Tummy Tuck"!
What do you know about Tummy Tuck?
Abdominoplasty or "Tummy Tuck" is a surgical procedure that is performed to improve your abdomen contour. It targets the belly and waist by removing the sagging skin and tightening the muscle wall of the abdomen. A tummy tuck is typically done after severe weight loss or pregnancy, as loose skin cannot be treated by following a certain diet or exercise.
There are three types of tummy tuck procedure which have to do with the length and shape of the incision. The doctor usually chooses the most appropriate type for you, taking into account the amount of excess skin you have around your abdomen.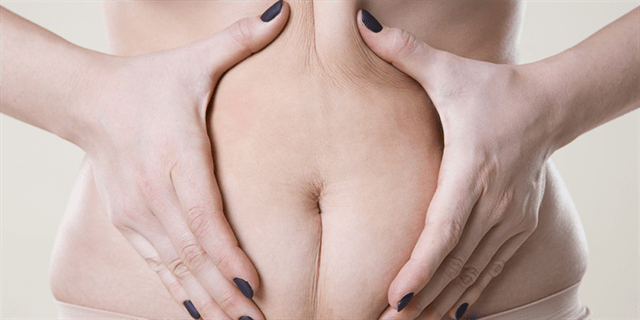 ● Full Tummy Tuck
A full tummy tuck addresses the upper and lower abdomen through a horizontal or U-shaped incision which is made directly above the pubic mound. Sometimes, it expends to involve the area above the belly button, giving smoother and more natural results. This type often is suitable for patients who have carried out gastric surgery.
● Mini-Tummy Tuck
Mini-tummy tuck targets only the lower part of the abdomen in which a few inches incision is made above the pubic mound. It is considered a less invasive procedure than the full tummy tuck, and appropriate for those who suffer from loose skin below the belly button.
● Fleur-De-Lis Tummy Tuck
Fleur-De-Lis Tummy Tuck improves the abdomen appearance effectively as it treats the abdomen area above the navel better through an additional incision which is made vertically. This procedure is able to remove a larger amount of skin than the full tummy tuck.
Who is the right candidate for Tummy Tuck?
Your age should be over 21 years old if you want to carry out a tummy tuck.

If you want to perform a tummy tuck, you should enjoy good health; you don't have any certain disease or skin condition which may impede your operation.

A tummy tuck may be suited for patients with sagging or loose skin resulting from significant weight loss.

A tummy tuck is an ideal way to get rid of the redundant skin around your body after pregnancy.

If you have a gastric surgery, such as gastric bypass or gastric sleeve surgery, leaving loose skin behind.

The patient should be at a stable weight, so he is completely ready for the surgery.

You would like to get a firmer, tight abdominal contour.
What are the pre-operative instructions for Tummy Tuck?
Here you have a set of instruction which you should follow to ensure good surgery:
You should carry out some necessary laboratory and medical tests before the operation.

You should avoid smoking for at least two weeks before the operation. Nicotine products may impact the surgery's result and delay the recovery process.

You should stop taking medicines that contain aspirin, ibuprofen combinations, anti-inflammatory, or Vitamin E that lead to blood thinning. These medical products may increase the risk of bleeding during surgery.

Avoid drinking alcohol or coffee for a week prior to the operation, because the stimulants may increase the risk of some complication after receiving the anesthesia.

Avoid eating or drinking on the day before the surgery in order to not affect the anesthesia process.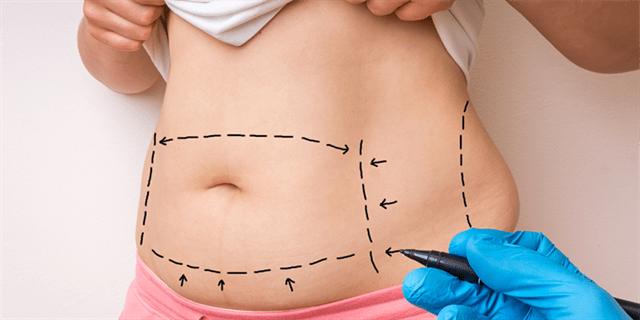 How Tummy Tuck is performed?
A tummy tuck takes up to 5 hours, the patient may also need to stay a day in the hospital. The procedure goes through the following steps:
General anesthesia is administered by the doctor, making sure that the patient will feel no pain during the operation.

Making an incision: the length and shape of the incision is determined by the doctor with regard to the amount of sagging skin.

Then, the skin is separated from the abdominal wall, and the underlying tissues are drawn together with stitches.

In this stage, the excess skin of the abdomen is removed, then the remaining skin will be tightened. In some case, the navel needs to be repositioned
What are the post-operative instructions for Tummy Tuck?
A set of recommendations that ensure fast recovery and optimum results after the operation.
Wear a compression garment for at least 6 weeks to enhance the results and promote proper healing.

Follow the right instruction on how to lay down in the best position to help you relieve the pain.

Avoid strenuous activities for 6 weeks after the operation.

You will be encouraged to take a brief walk around your house, in order to enhance your healing process.

Take your medicines, such as pain medications and antibiotics prescribed by your doctor.

Avoid smoking for five weeks after the operation.

Avoid direct sunlight to the incision and use sunscreen which helps you reduce the visibility of scars.

It is recommended to follow a healthy and balanced diet to help you maintain the surgery result.
Regular exercise helps you keep your ideal weight after the operation.
Before & After Tummy Tuck